Adinda Oryma Dwi Amalia – 1616 words – 6 minutes
BTS? K-Pop? K-Drama? Maybe you guys often hear about those things when talking or have a discussion about South Korea. A country that is also known as the 'Land of Ginseng' is a part of Asia. It is also one of the most popular tourist destinations at the moment.
Having 'Seoul' as the capital city, South Korea is also a developed country that has various cultures that have been worldwide. Because of K-Pop and K-Drama, the Korean Wave itself has entered and influenced many other Asian countries and even reached Europe.
There are so many attractions visited by tourists from various parts of the world. Therefore, for you guys who are interested in traveling to the Land of Ginseng, here are some tourist attractions that might catch your attention when you are travelling to South Korea.
1. See the beautiful view from Namsan Seoul Tower
Namsan Seoul Tower becoming one of the most famous objects and the most visited tourist attraction. This place is a communication and observation tower. Which is the second highest point in Seoul located on Namsan Mountain in central Seoul, South Korea. Namsan Tower is one of the places that appear most often in Korean dramas or variety shows.
In 1969, Namsan Seoul Tower was built with the aim of becoming a radio and television transmitter. However, since 1980, this tower has finally been opened to the public. After that, it has become one of the attractions where we can enjoy the view of the city of Seoul to this day.
Because of the tower's height, you need to have good stamina if you want to go to the top. But, don't worry! There is a cable car that can take you if you are too lazy to hike.
Namsan Seoul Tower is also famous for couples who want to hang their couple padlock. There is a belief that a couple will last long if they write their name in a padlock and throw the key after hanging it there. That is why you will find more than thousands of padlocks when you go to Namsan Seoul Tower.
2. Take a walk and enjoy street performances in Hongdae, South Korea
Talking about Hot Places in South Korea, of course we must include Hongdae in the list. Being the center of street performances and various things that are trending for young people, this place is always very crowded by visitors, especially at night.
For those of you who really like performing arts, it would be very appropriate to come to this place. Because in Hongdae there will be a lot of street performances ranging from amateur to professional level that you can watch for free. Even sometimes the trainees who will debut as Korean idols will do busking in this place as an introduction step before being formally introduced by their agency.
Becoming one of the hottest places in Seoul, this place also provides Korean culinary tours or even foreign food. You can also try various street foods at affordable prices, suitable for students. Besides culinary tourism, Hongdae is also one of the shopping centers in Seoul. You can shop for clothes, skin care, and cosmetics at prices that are no less affordable.
3. Play lots of rides and have fun in Lotte World
Lotte World is a tourist destination that is again located in Seoul and has become one of the largest parks, not only in South Korea but also in the world. This amusement park has indoor and outdoor facilities called Adventure Park that has 22 rides and Magic Island with 17 different rides.
One of the advanced facilities provided by this amusement park is a special bracelet for children. With this bracelet, the venue will easily identify children who go around unsupervised. Wow! Of course this is very useful for parents who want to take their children to Lotte World but still maintain and ensure their safety.
In addition to rides that test adrenaline, Lotte World also has an aquarium. It has more than 650 species of marine animals such as Nemo, Dory, Beluga Whale and Shark.
There is also a Lotte World tower that allows you to see the beauty of the entire city of Seoul from a height of 555 meters from ground level. Lotte World has the fastest elevator in the world to get you to the Seoul Sky observation deck on the 123rd floor. There, you can take a walk in the glass-floored room which is sure to be an attraction for those with high courage.
4. Experience the traditional atmosphere of Bukchon Hanok Village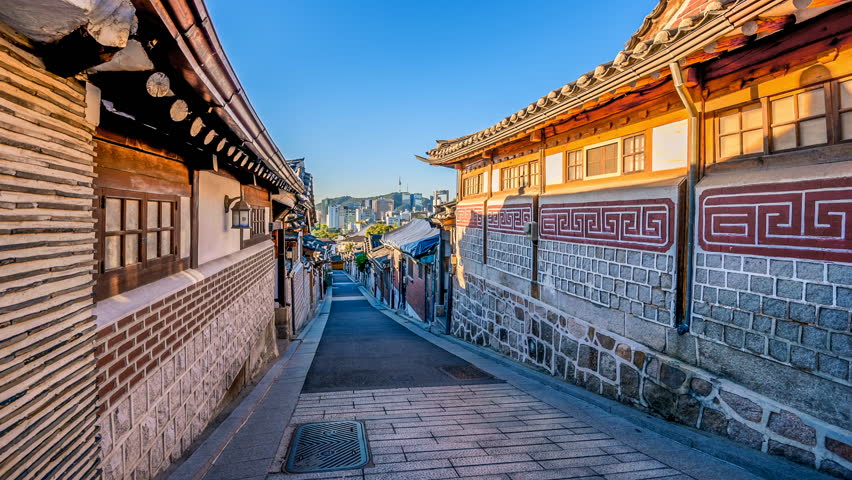 One more place that can be visited and is located in the center of Seoul, namely Bukchon Hanok Village. This place is one of the traditional villages in South Korea. Yes, as the name suggests, this traditional village is a place where there are still many ancient South Korean buildings. This traditional village itself is very popular because it often appears in South Korean colossal dramas.
There are many things you can do in this place, one of which is renting a Hanbok or traditional Korean clothes. Wearing traditional Korean clothes and taking pictures in front of old Korean buildings will make you feel like one of the actors you watch often. You can even stay at Hanok Homestay if you want to experience living in a traditional South Korean house.
5. Enjoy the scenic beauty of the famous Jeju island, South Korea
Having the Hawaiian of South Korea, Jeju Island is certainly one of the favorite destinations for tourists. With more than 600 thousand inhabitants, making Jeju Island the only province that has its own system of government. This island has many other names, such as Tammora, Seomra, Tamna, and Doi. In addition, the cool thing about the Jeju's dialect is that it is considered different from other regional dialects and has been included by UNESCO in the language atlas as a language, not just a dialect.
Jeju Island is famous for its tangerine plantations, you can even pick the tangerines yourself when you want to buy it. Then, for those of you who really like teddy bears, there is a Teddy Bear Museum that you can visit in Jeju. This museum displays thousands of teddy bears from all over the world that have been dressed in attractive clothes.
There is also one iconic place on Jeju island, but sadly it is only open to people aged 18 and over. Yes, that's right, the place is Loveland where there are about 180 statues of men and women with various positions on display. For minors, always pay close attention to the tourist attractions you are going to visit, okay?
6. Busan, a city in South Korea which is the birthplace of famous Korean idols
Besides Seoul, Busan is one of the most famous cities in South Korea. Not only because of the beautiful sea view but also because there are many K-Pop idols born in Busan. For example, there are two BTS members named Jimin and Jungkook. This fact made many fans of these idols come to this city to know more about this city.
Gwangalli Beach and Haeundae Beach can be good choices if you like beautiful sea views. Haeundae Beach itself is one of the best beaches in South Korea which is also often a shooting location for Korean dramas besides Namsan Tower and Hanok Village.
The city which has many beaches is also of course famous for its delicious seafood dishes. So don't forget to try it when you get to Busan, okay?
Even though there are many beaches, it doesn't mean that there are no mountains that can be used as your tourist destination, you know. From the top of Mount Hwangnyeong, you can certainly enjoy a beautiful view that covers almost the entire Busan City.
7. Shop various K-Pop merchandise in Hallyu K-Star Road
The last destination in South Korea that we will discuss is a place for K-Pop music lovers. Hallyu K-Star Road is a special project located in Apgujeong-ro, Gangnam-gu, Seoul and made by district Gangnam for foreign tourists who love Korean and Hallyu culture.
Along the way, you can see many Gangnam Dolls from famous South Korean idols, such as Super Junior, SNSD, KARA, BigBang, 2NE1, EXO, BTS and many more. There are also many shops that sell various things related to K-Pop, such as albums, lightsticks, posters, and many other merchandise.
Since this street is located in Gangnam, there are several Korean idol agencies also located not far from there. For instance, SM Entertainment and JYP Entertainment, two of the biggest agencies in South Korea. If you're lucky, maybe you can see your favorite idol while passing through these agencies.
So, how? Has there been one or two places that caught your attention to choose South Korea as a destination country when traveling?